BSP Appoints Ms. Prasad into Senior Executive Team.
Friday, July 7, 2023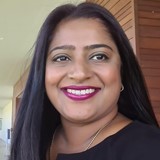 BSP Financial Group Limited (BSP) has announced the appointment of Ms. Umesh Radhika Prasad as its General Manager Treasury. 
BSP Fiji Country Head, Haroon Ali, stated, "I am pleased to announce the appointment of Ms. Prasad as our new General Manager Treasury. She will be a member of our Executive Management Team in Fiji and brings with her over 15 years of specialised experience in treasury and foreign exchange business".
Ms. Prasad is an accredited foreign exchange dealer with Australian Financial Markets with over 15 years of experience in treasury and foreign exchange business. She is passionate about local talent development and known to lead with empathy. She has led treasury teams since 2015 with ANZ Vanuatu and HFC Bank Fiji.
Mr. Ali reiterated that this appointment aligns with BSP's strategic objective of ensuring that more women become a part of the leadership team at the Bank.  "Ms. Prasad's appointment is a testament to BSP's strategy of having a diversified and local senior management team. Given her extensive experience, leadership and strategic approach, I am confident that she will elevate our Treasury business which will definitely benefit our valued customers".
Following her appointment, Ms. Prasad said, "BSP Fiji has very experienced and talented executive management team and I am looking forward to bringing further specialized expertise to the organization. I look forward to my new exciting role at BSP and am committed to adding further value to BSP Fiji's Treasury business".
Ms. Prasad is also a Board Director for Fiji Revenue & Customs Services and Fiji Chamber of Commerce. Her academic accolades include being a Gold Medallist from the University of the South Pacific for Masters in Business Administration. She holds a Post Graduate Diploma in Mathematics and Post Graduate Diploma in Economics. She also has a Bachelor of Science Degree in Mathematics and Physics.
---