BSP Deploys Satellite Solution at Rotuma Post Office.
Thursday, October 6, 2022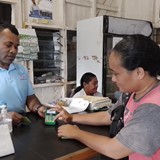 The BSP Financial Group Limited (BSP) has announced deploying a Satellite solution at the Rotuma Post Office to improve internet connectivity for the delivery of BSP banking services on the island.
BSP's General Manager Retail, Mr Ravindra Singh said, "Banking services at the Rotuma Post Office is heavily dependent on stable internet connectivity.  Through our collaboration with Telecom Fiji, the VSat solution now enables this".
BSP opted for Telecom Fiji's VSat Solution to ensure it is supported by a robust rural network to deliver banking service in places that lack stable telecommunications, either phone or data connectivity.  Post Fiji outlets that are using this solution today are Matuku, Totoya, Ono-i-Lau, Kabara and Moce.
BSP customers can deposit, withdraw, check their balances, reset or change their PIN at local Post Offices and now in Rotuma, customers can enjoy uninterrupted services. 
"Rotuma, like other places often face the challenge of isolation or unfavourable weather conditions that affect the stability of internet connectivity.  We look forward to the residents on the island of Rotuma making full use of this facility to safely transact and bank their cash," he concluded.
Through a tripartite agreement with the Government of Fiji and Post Fiji Limited, BSP delivers digital banking services in almost all rural and maritime zones.
---